Life on JET
Nick McCabe
ALT, Nonoichi-shi, Ishikawa Prefecture, 2016 – 2018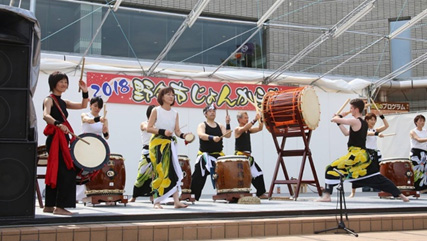 The name Nonoichi-shi (Field Field City – City 野々市市) didn't exactly strike a deep sense of excitement when I received my placement information. In all honesty, the only interesting feature was that I had travelled to a nearby city before called Kanazawa in 2014. Kanazawa has one of the three great gardens of Japan, Kenroku-en, a garden known for its changing beauty across the seasons. The Nonoichi indoor garden centre' scenery is definitely more fixed.
Although this remained the only reference point I could ever use when talking to other JETs or Japanese people from other parts of the country, Nonoichi-shi has come to mean so much more than the suburb city thirty minutes south of Kanazawa by bus. I won't lie, most of my friends were in Kanazawa, and almost all the events I went to see were there too, but as I look back on my time I can't help but feel grateful for where I was placed.
Working in its only senior high school was of course influential in integrating me into the community, and could have its own article, but I think what I found to be most significant were the bonds made outside the school. In my first month, I was lucky enough to be welcomed into a local taiko group thanks to another JET participant. This was the start of my two year taiko career, playing and practising alongside other Nonoichi people, performing at temples, shop openings, markets and festivals all over the city. I was touched greatly by the lengths all my fellow members went to bond with me, from surprise gifts of Japanese sweets to endless invitations to bowling, dinner and karaoke. I felt ashamed that despite having the right native language to sing their favourite Beatle hits, my voice often proved incapable of reaching their optimistic expectations in the karaoke room.
In fact many fond moments came from these cultural exchanges. I played both years in the annual Nonoichi Triple Volleyball Tournament, a rising sport where three teams duke it out in a in a high-paced three-net circle-shaped arena rampage. This was another opportunity to explain how UK sport interests differ to Japan's and how I had predominately played football when at school. Conveniently, I could also use this to explain away my height advantage and lack of hand control at basketball and volleyball, two very popular sports in Japan.
The taiko team was my main source of community, but there were others. I enjoyed going to the many ramen, curry, okonomiyaki restaurants and getting to know the people who worked there. Going to the Nonoichi public gym is also where I met and became friends with many more locals. Being invited to a baker's monthly enkai at his bakery, where he would prepare a huge array of bread delights, was one of my favourite events of the month. It was also the place where my Japanese conversational ability proved confidently insufficient.
What Nonoichi might lack in great sights or traditional heritage, it makes up for in abundance with its strong community. On my final weekend, which coincided with the annual Nonoichi Festival, I played with my taiko group on the main stage. Looking out to the crowd, I saw my friends from the gym and restaurants, my students, English club members, fellow teachers and retired people who I had assisted with English all gathered together. It was the climax to what had been an unforeseeably moving and enjoyable two years of getting to know the of people of Nonoichi.
Since I have left, it is the enduring relationships that I have kept and still maintain that have made me realise the value of my time on the JET Programme. Sharing knowledge, experiences and laughter was what I found myself doing most, and although London and Nonoichi are a little too far away from each other for us to easily meet, we can still continue to do this through emails, messenger apps and post. I will always feel grateful for all the friends and connections I have gained through the JET Programme.